Goooooodd morning sports fans! I can happily say the swap went well (for the most part) and the car is running again and behaving MUCH better! She's at a nearby Speedy getting an alignment as well as having the exhaust gaskets changed. When buttoning everything back up, we didn't have any exhaust manifold gaskets, or any gaskets to go on the exhaust spacers (right after the manifold there's a spacer so the downpipe can clear the oilpan...and even then it's juuustt touching the oilpan) so when it runs it sounds very restricted, almost like there's an exhaust leak. Doesn't sound like it's supposed to, I replaced the bolts connecting the spacer to the headers and the downpipe, and got a real nice shiner in the process thanks to incorrect use of a prybar on my part. After that I said f--- it, I'm done trying to fix that exhaust, I'll let a shop with proper tools and a lift take care of it. ANYWAYS! While doing the swap, we changed the timing belt on the donor ZE, as well as all the idler pulleys and the hydraulic tensioner. We were going to change the water pump too, but it was for a K8 and since neither of us were 100% certain it would fit/work well in a ZE we just decided to leave the current one in. It wasn't causing any problems anyways. We messed up the wiring for the reverse lights, so I don't have those at the moment (not a big deal), the shifter is too tight (my fault) so it's sometimes pretty hard to get it in gear, so I'll loosen those bolts a wee bit when I get the car back. I need to adjust the interior center console as well, as the e-brake lever doesn't like to go all the way down without some encouragement. But aside from all these niggly little issues, the car runs VERY well, the engine sounds healthier than I've ever heard one. And the best news, NO CHECK ENGINE LIGHT!!!!
For the first time in the 2 years that I've had this car, I don't have a check engine light issue!!
MAN is that f---ing awesome!
For those wondering, yes I'm still using the 94 ECU
, it's running the car well so I'm not changing it, specially since I'd have to drill and tap a hole for the 2nd temp sensor. The check engine light has only come on twice since the swap, once on the highway back home, but it went off when I had to stop for a light, and the other time was when it almost stalled cause I'm still trying to get used to the heavier clutch. It almost died, the lights came on as if the engine had been turned off, then it started back up on its own. I turned the car off and then back on and the light went away.
Now for those interested, PICTURES!!
Green/Silver donor car, body, frame, and tranny no good. Engine, shift linkage, short throw shifter in good condition
Just about ready to pull. My friend's first time pulling out an engine, he was pretty excited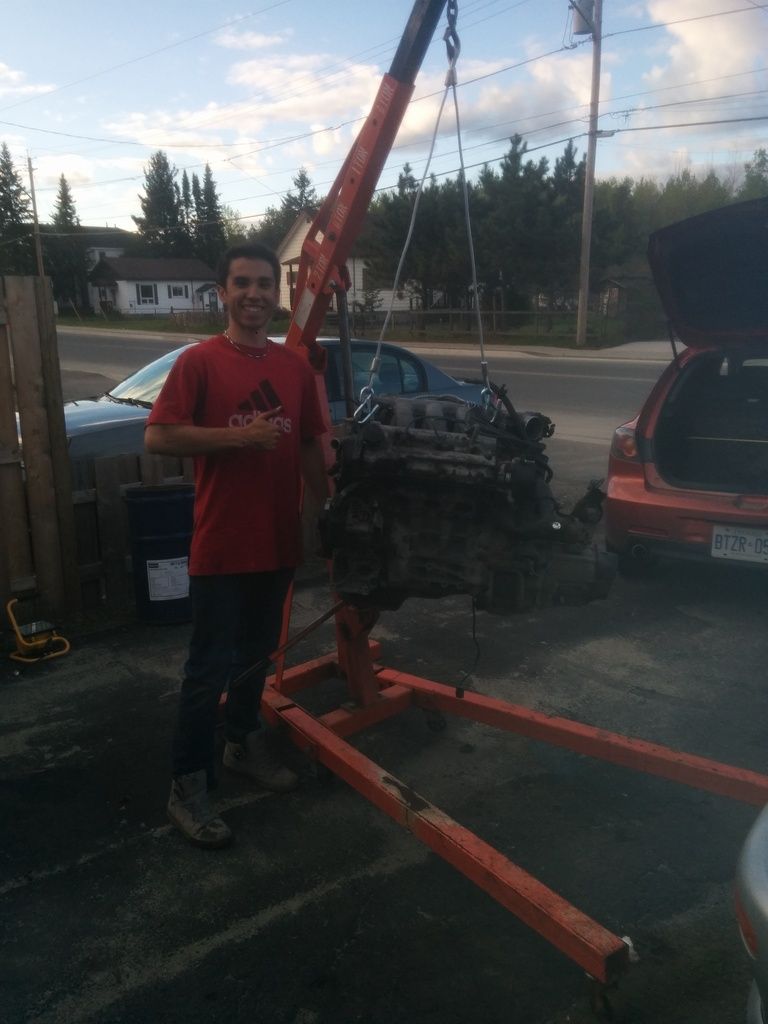 Engine out, he's pretty pumped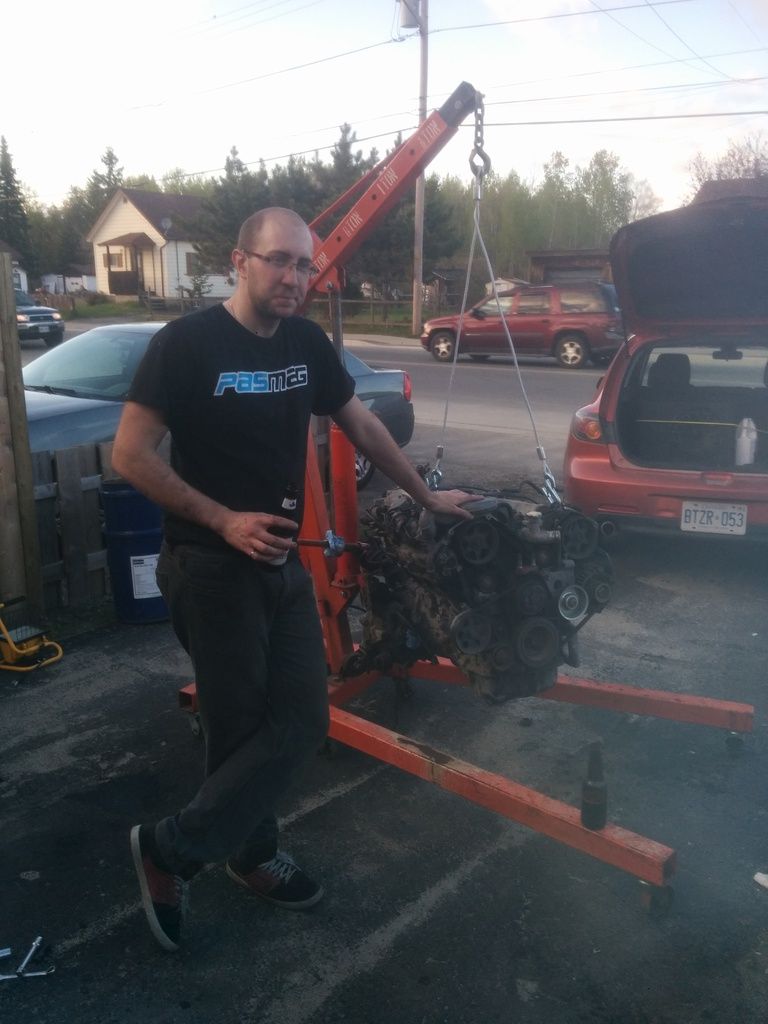 my second time pulling one of these bad boys
Timing belt and idler pulley work
both engines out, swapping commencing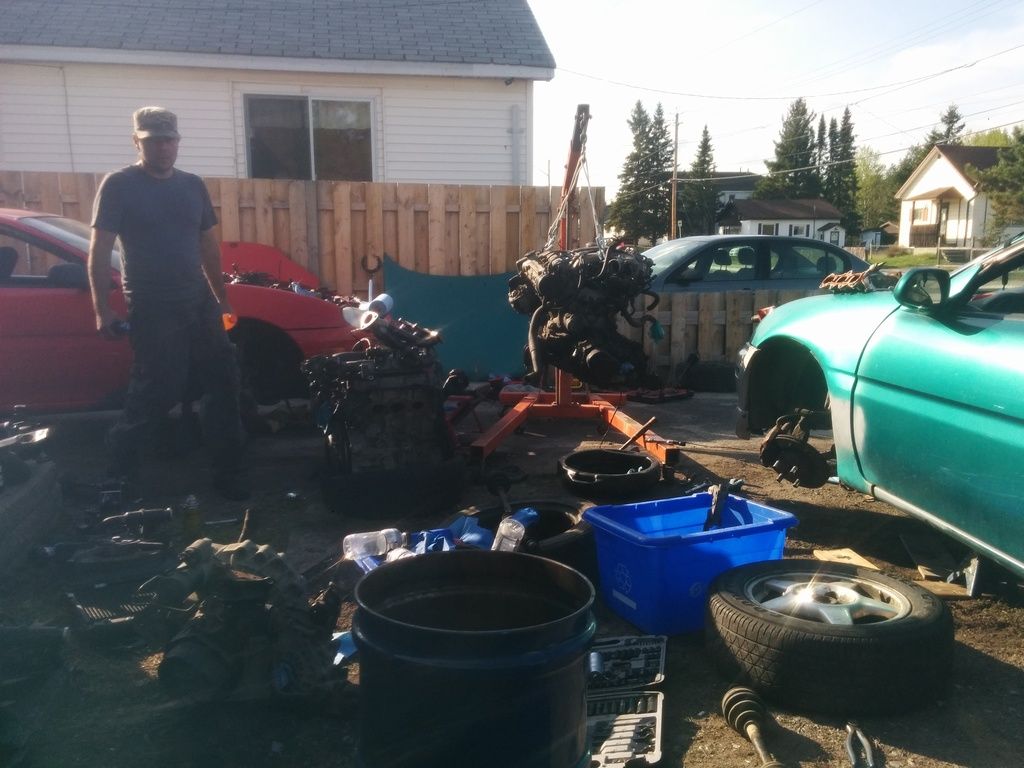 working tranny on better engine, my local MX3 wizard helping me finish the job, the donor car was his before I bought it off him. Other friends Mazda 3 had its rear suspension collapse, he was on his way back to help us install the new engine, he never made it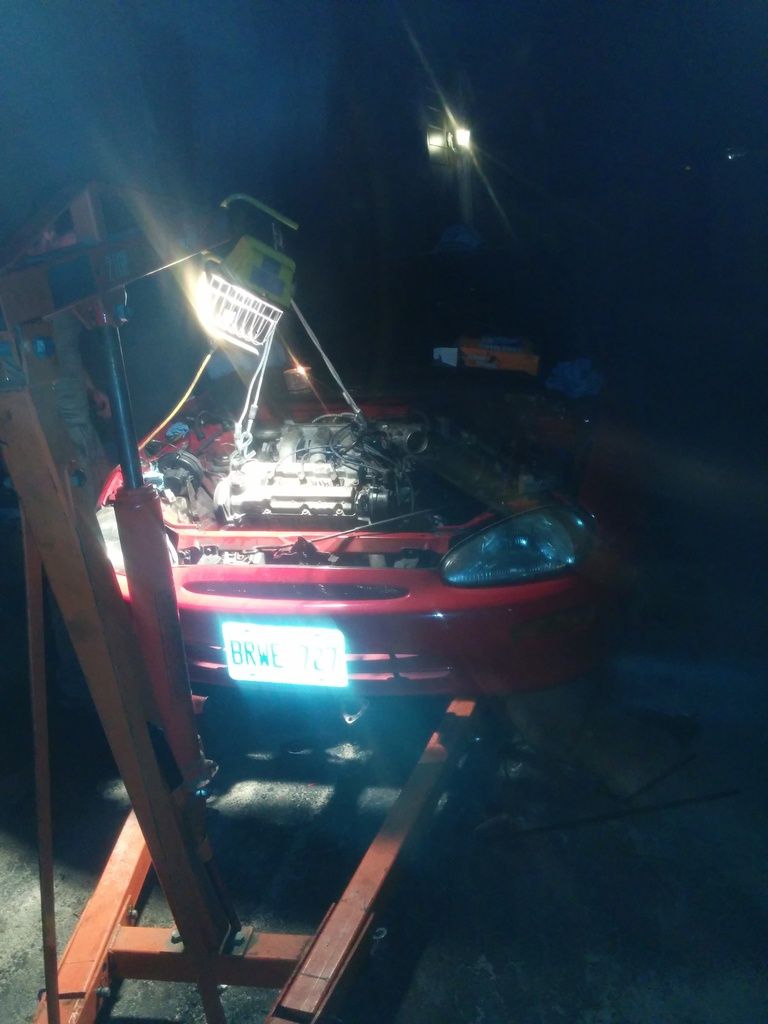 engine was in place and all mounted around 10pm
Don't have any pictures after the swap, I have a video of us starting it up with no exhaust connected. That ZE is LOUD with headers and no other exhaust connected
If enough interest is show I can upload to YouTube and link it here. We also gutted the power steering system from my car, the donor didn't have power steering, the wizard had disconnected it and made it manual steering, as his power steering was either always making noise, leaking fluid, or just not working. Mine had just started leaking, power steering fluid with stop leak had stopped said leak, but I didn't want to deal with future issues. I had also use the reasoning at the time that "Race cars don't have power steering".....I miss power steering. The one issue that prevented us from starting the car right away after connecting everything: distributor.
Don't EVER take your distributor apart and clean the contact points.
Once we figured out that was the issue, we swapped the distributor over from my old ZE and it fired right up!
So, I guess the original issue that caused the creation of this post has been fixed. It only took an engine and ECU swap to fix
For all the future work, I'll be making a thread in the worklogs section. Not many more mods are planned for the rest of the summer, need to replace rear struts ASAP. Monroe's are dead already, only been in there about a month. Either got a shitty batch or they don't take well to lowering springs. Lifetime warranty though, so all it's gonna cost me to fix them is the price of a set of spring compressors. Aside from that, I'd like to take her to an autobody repair shop and have all the bubbling fixed up/painted. If at all possible, a Mazdaspeed bumper is something I'd like to entertain this year.