SoCal - Ventura County - Looking for help with KLZE swap
Hello fellow West Coast MX-3 owners!
I am throwing myself at the mercy of other SoCal MX3 owners. I have a 1993 Mazda MX-3 in good shape (pictured below!) despite its ~150K miles, but the K8 in it is worn out and it failed smog. I would love to swap a KLZE in it, but I am relegated to apartment living at the moment so I don't have the space.
That's where I'm hoping someone can help. The first thing is I need some space to actually work on the car. I also have zero experience working on cars, so I would greatly appreciate some help selecting all the parts for the swap and installing it. I would love to help with the install, although it would be better to have a mentor to watch over me. There will also be plenty of beer/food, and a few hundred dollars in cash out of appreciation. The car itself is currently registered non-op and located in Camarillo. It still runs, just burns a lot of oil and failed smog, so I could potentially drive it somewhere close by (Ventura, Oxnard, etc.).
If you can help out with space and expertise, it would be very much appreciated. I love my little MX-3; it was the car I learned to drive a manual on, and was just more fun to drive than any of my previous cars. I would like nothing more to see it running again.
Anyway, on to the pics!
Best full pic I could get with it in the parking stall. Unfortunately, the last time I drove it, I forgot to unhook the battery and it drained over several months. It's been covered most of the time it's in the parking stall, but it's still pretty dusty. Paint's still shiny though!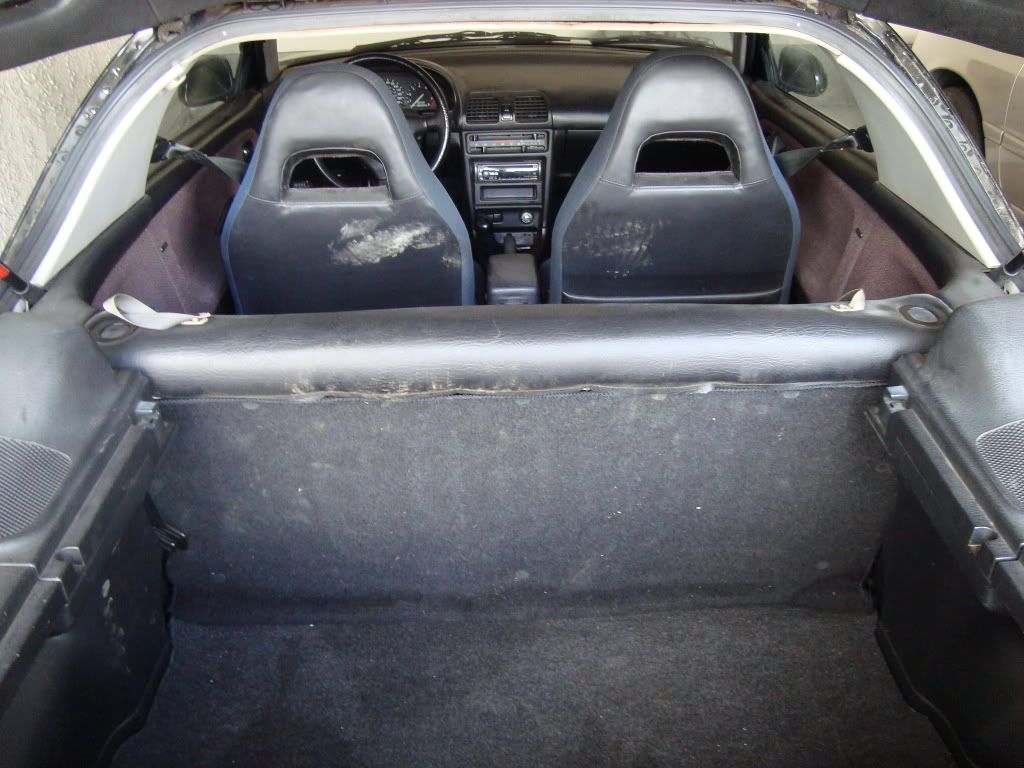 The interior is in great condition, although a little dirty. A little bit of trivia: by folding down the MX-3's rear seats, you can easily fit a frame size 17 mountain bike in the back by removing the front tire. The hatch closes and everything!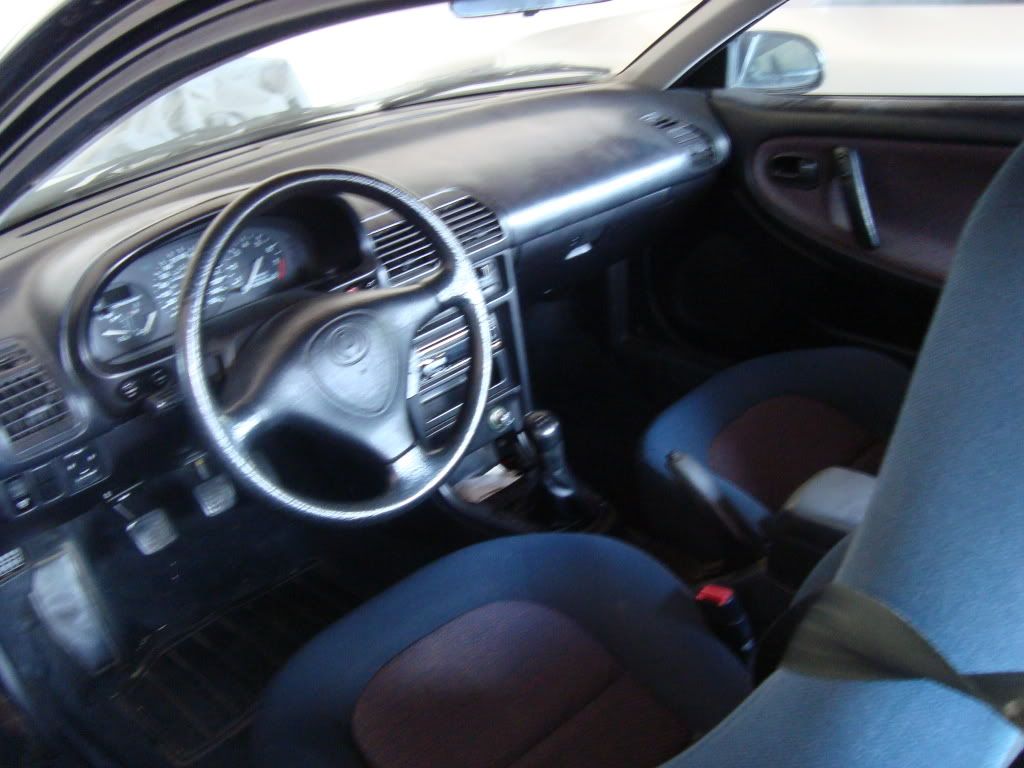 Interior is in good shape, except for a few small tears in the seats.
This is the only really noticeable problem: somebody made a white scrape across the bumper one night while it was parked. I don't even know how they managed to do it; the scrape was so light, rain washed away most of it. Once I get a new engine in it, I'll take care of this minor blemish.
Finally, here's my current parts list for the swap. This is an ongoing list I am hoping to update as I continue researching. I could use some help locating certain parts, in particular the engine which I have no idea where to get other than the worst possible place: eBay. So far, internet searches and random yellow pages calls haven't turned up a place nearby with a KLZE.
1993 MX-3 GS Parts and Stuff
--Absolutely necessary stuff--
KLZE Engine:
Budget: $800
Locations: eBay (not the preferred option...)
Millenia Manifold:
Budget: $100
Locations: eBay, local junkyard?
K8 Probinator ECU Chip (need to check if my K8 ECU can be chipped):
Budget: $45 (self solder)
Locations:
http://www.cardomain.com/ride/728690/1
Exedy MX6 Clutch Kit:
Budget: $150
Location:
http://www.partsgeek.com/catalog/1993/m ... h_kit.html
Motor Mounts:
Budget: $160
Locations:
Rock Auto:
http://www.rockauto.com/catalog/raframe ... 305k316194
(isn't there a front and rear mount?) - $64
AWS:
http://www.awrracing.com/store/product_ ... cts_id=393
- $160
NGK Spark plugs:
Budget: $20
Location: Local autoparts shop
NGK Spark plug wires:
Budget: $75
Location:
http://www.rockauto.com/catalog/raframe ... 305k479536
Gaskets (would KLDE ones work?):
Budget: $50
Location: ?
Timing belt / tensioner:
Budget: $50
Location: ?
Filters and fluids, odds and ends:
Budget: $100
Location: Local autoparts shop
Currently expected parts budget: $1550
Am I missing anything?
--Additional stuff I'll probably get--
Ebay KLZE headers:
Budget: $130
Location:
http://shop.ebay.com/?_from=R40&_trksid ... Categories
Replacement muffler:
Budget: $150
Location: Open (Looking for something reasonably quiet, i.e. won't attract attention)
(Same as stock K8 or KLDE?)
Oil pump
Water pump
Fuel Pump
Mazdaspeed Carbon Fiber Shift Knob that Corksport used to sell:
Budget: Whatever someone will sell it to me for
Location: ?
Thanks for looking, and if you think you could provide some help, please let me know!