So guys I finally did the swap, First off i'm going to do a quick run thru of what you need to do the swap and cost breakdown for everyones interest.
So if you want to swap to OBD-2 just for the ease of diag and actually being able to see real time date, along with smother powerband and slight better MPG's and are afraid of MS then this is the way to go.
Things your gunna need
OBD-II PCM (
Don't get one from a KLG4 it will not work!!
) 25$ shipped from ebay
MAF (
From a Milli
)
IAT (
this ones pretty universal
)
MAF/IAT harness (
the plugs with about 6-8" of wire
) $20 for the MAF/IAT and harness from a pick and pull
OBD-I - OBD-II harness adapter 165$ From a guy on the KL FB page, hes also on other forums
So total investment $210
Some things to know befor doing this, your check engine light will be on since all the PCM's are for auto transmissions so you thro atx codes along with an evap code and two O2 sensor codes since the OBD-II cars use post cat sensor as well as the pre-cat sensors this does not effect performance or MPG's
On another forum there has been some development to eliminate these codes by tricking the PCM by wiring in resistors and relays and such to fool the PCM to think the missing components are there. But if you don't mind the engine light then no need to bother.
Now to install the MAF and IAT you need to either cut up your old vaf to make a plug&play harness like I did or cut the vaf plug off and soder and shrink wrap the new plugs on to the harness. You will also need to run a wire from the MAF plug to a 12v key on source on the car some where. I do have detailed instructions on which wires go where just pm me and ill send you the info as I was asked not to post up the info.
heres a pic of the plug&play harness I made for the MAF/IAT
note the red wire not connected to anything is the 12v source wire
After this pic i further heat shrunk the wires together put it in a wire loom and then wrapped it in electrical tape.
Here a pic of the OBD-I to OBD-II harness this can be made if you have the time and wiring diograms to figer it out.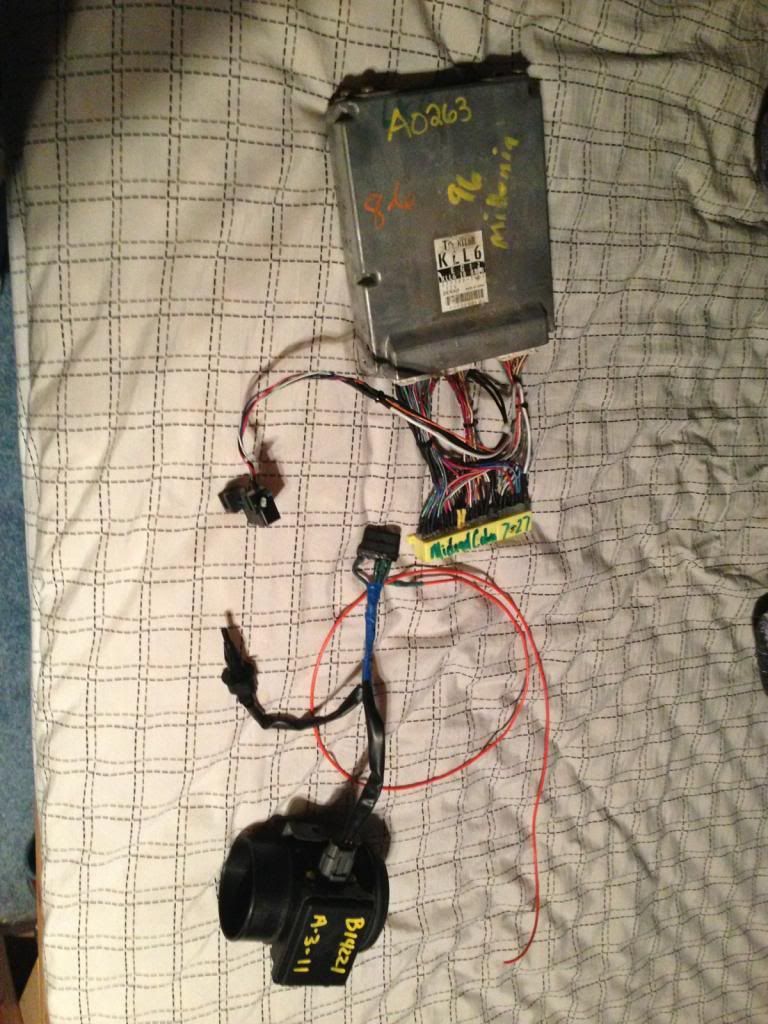 Any further questions feel free to post up and ill answer them best I can.