How to Post Pictures on MX-3.com
I've come across a few people who don't know how to do this.
Instructions:
Find an image hosting site. These websites are usually free. The idea behind them is to take the picture from your computer, and host it on the internet where it is always accessable (with your permission). There is generally a file size limit, and the site will will reduce the quality or size of your picture untill it meets their critera. (usually ~1MB) If you do not tell the website to change the size ("keep original size") then it will automatically reduce the quality. Don't worry about this too much, unless you have a 10MP camera.
Imageshack.us
Photobucket.com
picoodle.com
imagehosting.com
For this tutorial I will use photobucket, because imageshack is being a pain today. That and Photobucket is easier to use.
1) Register. Its like any other website. Find your "album"
Mine looks like this atm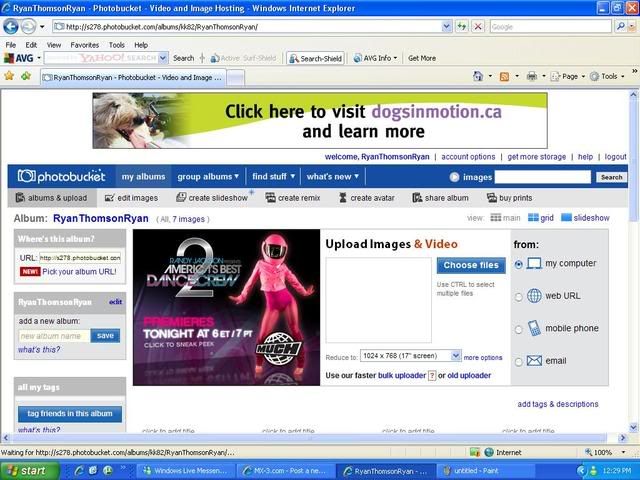 2) The instructions to upload are quite simple, it says right there. These pictures are 640x480, maybe one step bigger would work okay too.
When you're done uploading, click into the box that contains the "direct link"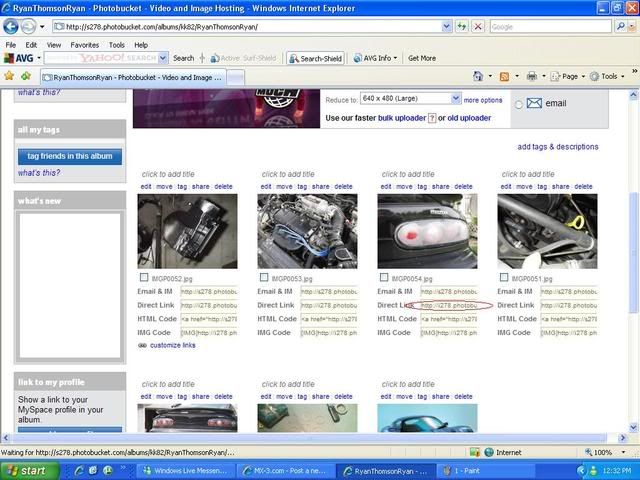 Paste it between the brackets generated by this button
And it should all work for ya
Once the pictures are on the website, you don't need the originals anymore, and you can delete them from your PC.
It is important to know how to use a direct link and place it between the image code brackets, but if you upload your picture to Photobucket,
you can use the IMG code button, and it will supply the code for you
The reason I showed the long was was if you want to take a picture directly off the internet, you may right click on it, go to "properties" and copy the "Address(URL)." This URL can be placed between the IMG code brackets. This saves you from saving it to your PC and uploading it. Why would you do that if it is already hosted?



_________________




Now with Moderator power!



Black '93 BP RS - wrecked, parted, scrapped.
Green GS - Sold.
Black GS - Summer DD/Race car - Fancy KLZE
Red GS - K8-ATX -> MTX-KLDE - Frakencar. Scrapped
White GS - Rusty. Parts. Scrapped
1997 BMW M3 - my summer baby
2002 BMW 325Xi - sold
2003 Forester Xti - EJ20K swapped.
Feedback