How To: Front Knuckle Bearing Removal/Replacement
I couldn't find one on here and if there is, I am still going to post this one because I've seen a lot of questions about removing lug nut studs and bearing replacement and I personally think it's silly to buy another knuckle just for those reasons.
So, I'll get right into it:
Things you'll need:
1. A Press
2. Two or three slightly different size sockets (large ones) or other large round hard things.
3. Music and Beef Jerky
The manual lays it out quite simply (without pics.) Press out the hub. Remove the bearing retainer clip. Press out the bearing. Installation is reverse. Nice and easy. For someone who already knows pretty much every problem that will arise (which I'm going to be attempting to cover) If I've missed anything, let me know!!!
First thing to worry about is getting the knuckle off. If someone wants a how to on that, I can provide it but it's really simple: Disconnect everything attached to it - Wheel, Caliper, Ball Joint, Drive Axle, Tie Rod, Strut.
Here's the Knuckle and the main position I used on the press. The dust cover on the left side will be pushed against the knuckle. Don't worry, it's less than a quarter inch and the hub doesn't have far to go to come out. If you want to use wood or metal shims to level the knuckle out, go ahead.
Once you get your press set up complete, it's time to find something suitable for the press to push against and something suitable for the hub inside the knuckle to be pushed out. I used a socket that fit the circumference of the hub. The most important thing to focus on is whether the jack is lined up to what you're pressing out and to the pressure points of the knuckle. if it's not lined up, it will go sideways and get stuck. If this happens, either tap at it with a hammer from the other side to get it back even or press on the side that isn't moving or is higher till it's level. Just press till the hub comes out. Don't forget to catch it!
When the hub is out, you'll see the bearings. you should only see one set because the other side of the hub will still be in the knuckle. It's what my punch is resting on. I just tapped it all around till it fell out. You shouldn't need to press it out. If it won't come out, then your car must have sounded horrible while rolling.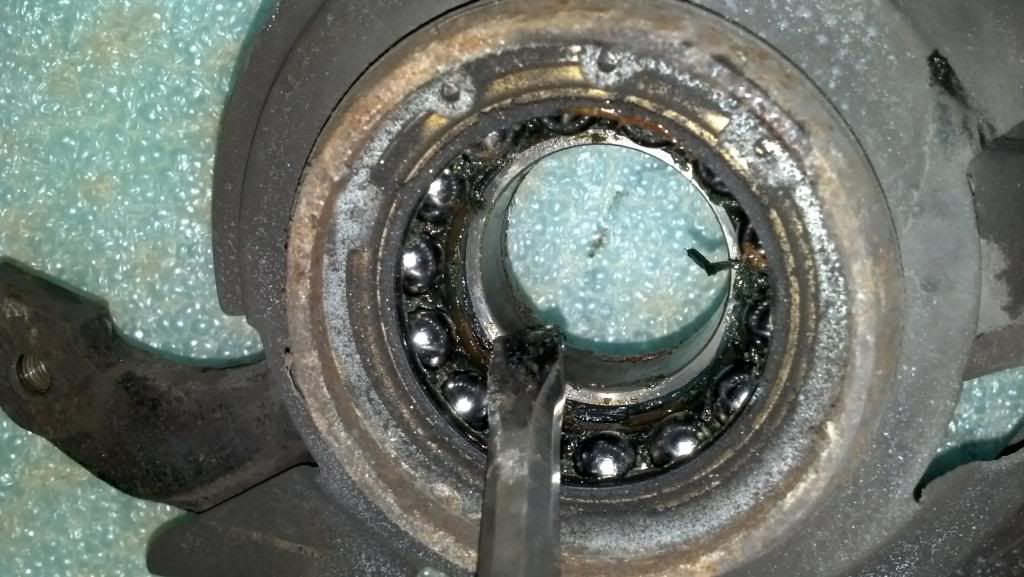 I went ahead and set them on the cookie sheet to bake! Sprayed them down with some degreaser to get them cleaned while I pushed out the bearings. This is all that should be out at this point:
The next beast to get out is the bearing retainer clip. If you can't see it, it's on the side that the hub was on, opposite the rubber seal, under all that grease. I tried cleaning mine out for a good picture, but after five minutes I gave up. I swear this stuff multiplies.
If you use the right tool, this is easy. If you don't have the tool, I feel sorry for you and wish you good luck. Try a screwdriver or two and a lot of force. (It's tough but it's been done before!
) Luckily I had the right tool and it took less then fifteen seconds of fighting. (It's a strong little thing!)
Pretty much the same set up as getting the hub out, just a little bigger socket or round thing will work. I didn't worry about the little rubber seal that's annoyingly in the way. I just pushed the bearings themselves. After quite a loud bang
(breaking the metal friction/traction points) it started slowly pushing out. It takes a considerable amount of force, as long as you're lined up properly it should just be about pumping the jack till it breaks free. Here's one of them out: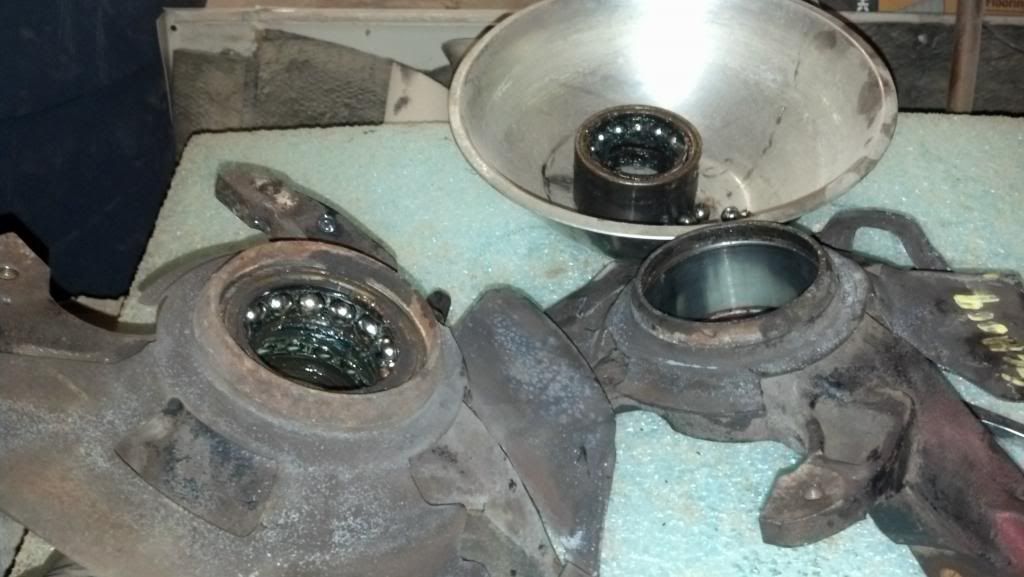 The dust cover is simply annoying. It's it only held on there by being just large enough to force over the rim that the hub goes into. I put it on the ground and took my long flat punch to it till it slid off. If it won't come off, pretty much the only thing to do is soak it in Blaster (or torch it! -not recommended because it's so thin) They aren't too expensive if you ruin it. Here's a picture of the knuckle with the dust cover removed
After some soaking and wire brushing (not building a show car yet) I put a coat of rust blocker on 'em and set them to dry for another coat tomorrow.



_________________


93 MX3 SE (klze conversion in progress)
03 Elantra GLS (DD)
92 MX3 GS sold
missed!


The very air around me seemed to catch fire and freeze at the same time, that's how I knew he had enough for today.


Rangers Lead The Way!