Weird Idle after Turbo my BP
Finished Turbo install, had an ECU hiccup since I am using ATX harness which I fixed after re-pinning. Finally got it started up and it runs smooth.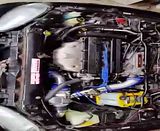 When I rev it, it returns to idle speed but then jumps from 1700->2200rpm every couple of seconds. Any ideas what this could be??
Thought it was related to vacuum lines but checked everything does not seem to be any leaks. I don't think idle adjust screw will fix it, nor do I think it is my RX7 VAF that I had tuned 4 clicks from baseline...