MazdaRacer Motorsports Stainless Steel Braided Brake Line Group Buy
Group Buy Details
This group buy is being brought to you by MazdaRacer Motorsports. I am not some big company, it's just me. In all my years of modding and racing i have made some good contacts and i am just giving back to the Mazda community. This is not my full-time job, it's just a side thing i like to do. I have been doing GB's with many other products, including custom one of a kind parts and have been doing GBs with Technafit for a few years now. I can assure this and all my group buys are 100% legit with a 100% great customer service record.
I have been doing the orders in phases. Usually 5+ at a time. If interest is high, i'll do multiple orders throughout the group buy, this way you don't have to wait untill the end to have your lines shipped. Of course payment is needed before i place you on the order list.
There is no minimum order requirement. It just goes along untill it ends. I have been doing these GBs pretty regularly over the past 4-5 years, so if you miss out on this, the wait is not that long for the next. I guess on average, i do them every 2-3 months. But if you can't wait that long, just PM me, and we'll make it happen.
This initial Group Buy will be open for 3 weeks. (Ends Aug 10th)
The Product
The lines are made by Techna-Fit. Great improvement over stock, many times the stock brake lines will expand when the fluid is pumped through them to the calipers, SS Brake Lines eliminate line expansion. The kits come complete with new banjo bolts and washers or other hardware (when applicable). The threaded hardline head is on a swivel, so you never have to twist the line to thread it to any hardline/caliper. All lines are DOT certified (as opposed to just DOT aproved) These are high quality machined fittings. Feel free to order just fronts or just rears or all 4. The pictures below do not show the sleeves, however you are able to order the sleeves in 4 different colors: Clear, Smoke, Red and Blue AT NO EXTRA CHARGE!!!!
Availability
Any Mazda or other model car is included. So if you have a friend/GF/wife/family member with an Acura, Toyota, Ford, Dodge... whatever, they can get in on this group buy. It's pretty much open to whatever lines Technafit produces.
NOTE:
Pricing for other Mazdas and other car makes are subject to a quote. They may or may not match the offered GB price here. Please PM for more info and include all necessary info regarding the car.
Ordering
Ordering is simple, you just need to PM the info requested below to me (Mazdaracer). You will receive a quick reply to confirm receipt. By doing so, you are agreeing to send payment on time. Please allow enough lead time for any changes after you've submitted your info.
Payment
Payment is due by the close of the Group Buy. (Of course payments can be made at anytime during the group buy as well) If payment has not yet been received, you will get one (1) curtousy PM and be expected to reply within 24 hours. If no reply is received within 24 hours, then sorry, you lose your spot. It's not fair to the other buyers to wait. Paypal is the much prefered method of payment. I am open to help and make arrangements, but i must have some lead time. Please, if at all avoidable, do not PM with 1 day left in the GB saying you have a 1 week delay. If you are of the non paypal users, Money Order payments may be arranged.
Paypal payments:
number98@mazdaracer.com
Shipping
The pricing below includes shipping in the continental USA. Hawaii, Puerto Rico, and other countries: Please PM for a shipping quote outside the USA.
Shipping to Canada is a flat $7 extra.
BRAKE LINES
Availability
Mazda MX-3 92-96
and all other Mazda models
Other Car Makes (If Techna-fit makes it, you can order it)
Below are photos of some other Mazda models as reference to the quality of these lines.
Mazda3
Mazda6
Protege
This is a pic of what the colored sleeves would look like.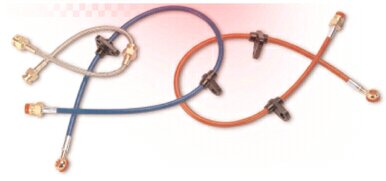 CLUTCH LINES
Availability
Clutch lines are available for both the RS and GS. The same line is used for the KL engines, as well as the BP engines for those of you who have done engine swaps.
Protege, MX3, MX6, 626, Probe, Escort, ZX2

...all use the same line
Pricing
Brake Lines
Front or Rear set of 2
$45
to your door in the USA
Kit of all 4 lines
$85
to your door in the USA
Clutch Line
$25
to your door in the USA
Combo
Set of 4 SS Brake lines + 1 SS Clutch Line
$105
to your door in the USA
In accordance to MX-3.com GB rules, 5% will be added to each order as a donation to the forums. Due to this, each order will be invoiced via Paypal, (Please do not pay without a confirmation email with total price) so please include your Paypal email. If you do have one or do not like to use Paypal, PM me to make other arragnements.
******************************************
Please PM your info
MX-3.com Screen Name:
Year of car:
Engine: (V6 or i4)
Trim: (RS or GS)
Rear Brakes: (DRUM or DISC)
ABS: (YES or NO)
Brake Lines Wanted: (FRT or RR or All)
Clutch Line(s) Wanted: (YES or NO) (QTY)
Sleeve Cover: (YES or NO - Clear, Smoke, Red, Blue)
Full Name:
Street Address:
City/State/Zip:
Phone #: (optional)
Payment Method: (Paypal or Money Order)
Paypal = (your paypal email)
Additional Notes:
******************************************
My info and where to send Money Order payments
Darryl Craig
983 Oakdale Street
Corona, CA 92880 USA
7142352776
mazdaracer@imazda.com
or
number98@mazdaracer.com
THANK YOU!!!